You Are Here:
Home / Pumpkin Pancake Bites
Pumpkin Pancake Bites
Here is a make ahead breakfast that you could do in a big batch and then freeze in portion sizes.  Eat them out of the oven, or warm them in the microwave then dip away.  After seeing these sold in the store I thought I could make them too and know what was going in them.  What kid doesn't like using their fingers for eating?  You could use any pancake mix you love… I did pumpkin because of the time of year and it amps up the nutrition!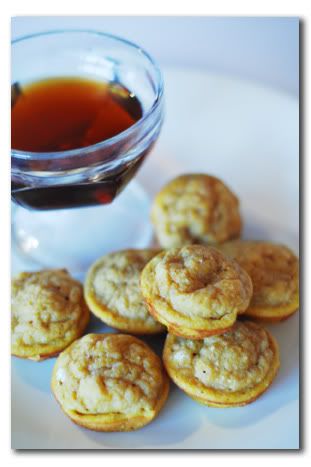 Pumpkin Pancake Bites
1 1/2 cups flour
1/2 cup whole wheat flour
2 Tbsp brown sugar
2 tsp baking powder
1 tsp ground cinnamon
1/2 tsp salt
1/2 tsp ground ginger
1/2 tsp ground nutmeg
1 1 /2 cups fat free milk
1/2 cup canned pumpkin
1 egg white, lightly beaten
2 Tbsp canola oil
In a large bowl, combine the first eight ingredients.  In a small bowl, combine the milk, pumpkin, egg white and oil; stir into dry ingredients just until moistened.
Spray mini muffin tin or line with papers.  Fill cups 3/4 full.  Bake at 350 for 10-12 minutes.  Pop out and enjoy!
For extra fun you could top the bites with sprinkles before baking!